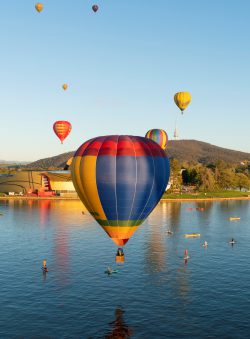 FLIGHTS
– Adults $460
– Children $330*
Weekday only flights
(valid Monday to Friday, excluding Public Holidays)
– Adults $410
– Children $290*
*the child price applies to children 6 to 12 years and less than 45kg. We do not fly children under the age of 6.
Breakfast is available at the Hyatt's Promenade Cafe for an additional cost of $45 per person.
For more information about COVID safety
FLIGHT EXPERIENCE
We meet just before dawn at the Hyatt Hotel, Commonwealth Ave, Yarralumla.
After a pre-flight briefing, we will drive you to the launch site where you are welcome to take photos or assist with the inflation of the balloon. The flight lasts between 45 minutes and an hour and offers spectacular views of Canberra.
On landing we pack up the balloon and return to the Hyatt for a traditional champagne celebration. Breakfast is not included.
More information on what happens on the day.
Please refer to our Terms and Conditions before booking.