Australia's Capital Territory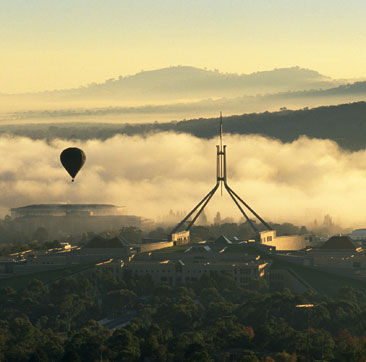 The Federal Parliament designated the Australian Capital Territory for the site of the new national capital, Canberra, in 1908. It is now the largest inland City in Australia with a thriving population of 345,000.
Canberra is one of the world's few planned cities, an oasis in the bush with a kaleidoscope of colours and experiences for you to enjoy. It must be one of the most wonderful places to take a balloon ride in the world. From the iconic buildings in the Parliamentary Triangle, including the New and Old Parliament Houses, to the vast open spaces surrounding the Capital and the Brindabella mountain range to the West, these are all visible on your balloon flight with us.
Fly with Dawn Drifters for spectacular views of the War Memorial, The Mint, Manuka Oval, The Canberra Stadium, Black Mountain and of course Lake Burley Griffin.