Canberra Balloon Spectacular
The 2024 Balloon Spectacular will be held from Saturday 9 to Sunday 17 March as part of the Enlighten Festival.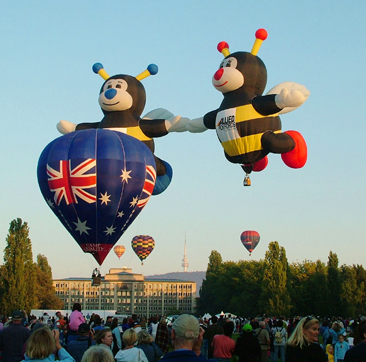 Around 25 balloons will launch from the Patrick White Lawns and you can be part of the action by booking your balloon flight with Dawn Drifters. All passengers get an opportunity to view the other balloons from the privilege of their own platform in the sky –
a photographer's delight!
Prices
Weekends (includes Canberra Day public holiday)
Balloon Spectacular weekend flight               $495/person (13+)
Balloon Spectacular weekend child flight       $360/child (6-12 years & less than 45kg)
Weekdays (Tuesday to Friday)
Balloon Spectacular weekday flight                $445/person (13+)
Balloon Spectacular weekday child flight        $320/child (6-12 years & less than 45kg)
Bookings essential – phone: 02 6248 8200 or online